I'm very surprised that I didn't blog about this on our actual anniversary, which was the 17th. I can not believe it's been that long, and that so much has happened in those years.
Something that I've wanted to do for a long time has been replace DH's ring with something nicer, like a tungsten wedding band. I've casually browsed them, wondering if I could surprise him, but the more that I've looked, the more I want his opinion.
Because of his line of work, I know he'll want to keep it simple. Some of the tungsten bands I have seen seem like they would perfect, like this one: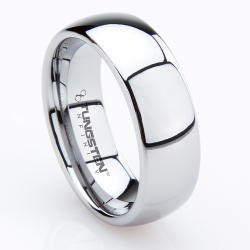 They have that one, and then one with a straight edge.
I've noticed though, that guys take just minutes to decide on a ring when a woman? A woman takes FOREVER. I love my ring – DH picked it and it was a complete surprise to me. I wouldn't have it any other way. I don't want a ring with a big diamond on it. Why? I am constantly swinging that hand into the wall when I turn a certain corner in a house. It's like there's a magnet or something there, and while it drives me nuts, I just know a different ring would get scratched or something.
So what would you do? Would you take your DH somewhere and make him take his time and really pick out something he likes, or would you go online somewhere like Men's Tungsten Online and pick one out yourself?